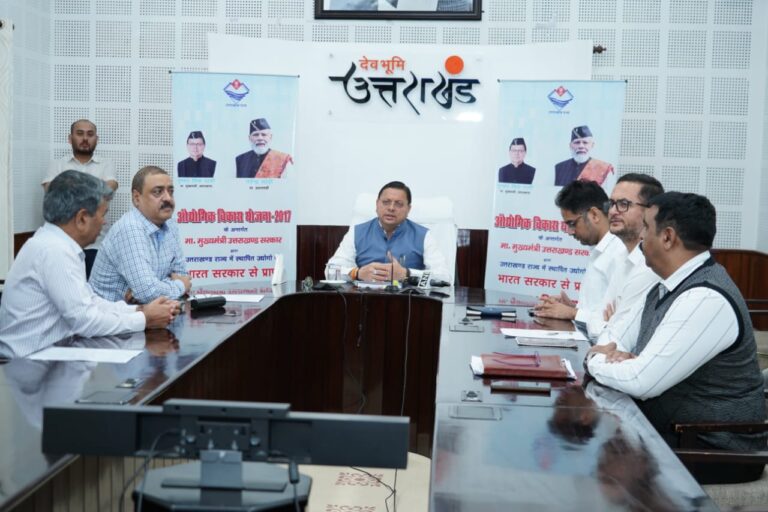 Chief Minister Pushkar Singh Dhami transferred digitally the 'grant money' received from the Government of India to the industries established under the Industrial Development Scheme. The Chief Minister transferred the amount of Rs 90 crores sanctioned to 40 industrial units to the accounts of the beneficiaries (under the Industrial Development Plan 2017 of the Government of India).
The manufacturing and service sector units are to be set up to encourage industrialization in the Himalayan states of Uttarakhand and Himachal Pradesh. Subsidy up to Rs 5 crore at the rate of 30 percent on investment made in plant and machinery is announced.
Rs 90 crores have been transferred to 40 industrial units said Dhami to the Industries as a part of development manifesto.
The CM thanked the Prime Minister and The Union Commerce and Industry Minister, Mr Piyush Goyal for providing support to the state through the Industrial Development Scheme for the development of industries in the state. He said that this is an important scheme for the promotion, promotion and expansion of industries in the state. "Continuous efforts are being made by the state government to promote industrial development in the state" , he added.
Under the Uttarakhand Global Investor Summit, agreements worth 55,000 crore INR have been signed for investments across the state. Meetings with various investor groups in London, Birmingham, Delhi, Dubai and Abu Dhabi reflect that the Government seem marking the beginning of a new era as far as the industrial development is concerned.
He said that whatever suggestions are being received in various meetings, those suggestions are also being implemented. Whatever agreements have been signed and proposals have come, they will be fully assessed and further work will be done. Along with investment, proposals and agreements that provide employment to local people and strengthen the primary sector will be encouraged on a priority basis.
The Chief Minister said that whatever policies have been made by the state government, keeping in mind the interests of investors, industries and people of Uttarakhand