Robbinsville, New Jersey
Last weekend, the largest Hindu temple in the United States opened its doors on over 183 acres of former soy farmland in rural Robbinsville, New Jersey. The East Coast state is home to one of the world's largest populations of Hindus outside of India, and this Bochasanwasi Shri Akshar Purushottam Swaminarayan Sanstha (BAPS) place of worship, community gathering, and culture is expected to be a pilgrimage site for Swaminarayan sect followers and other spiritual communities from around the world. Standing 191 feet at its highest point and decorated with 10,000 statues, the highly intricate, carved stone Swaminarayan Akshardham is a religious beacon amid fields of green. However, the temple has also been mired in controversy over allegedly poor labor practices during its nearly 15-year construction, resulting in an ongoing lawsuit and federal investigation, as well as the deaths of two "volunteer" builders.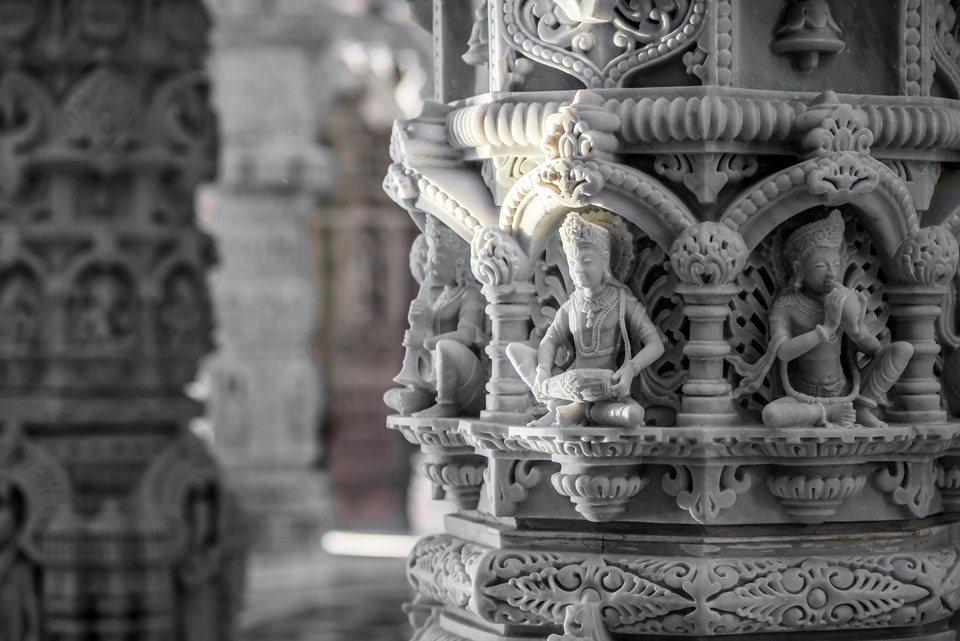 Constructed of more than 1.9 million cubic feet of interlocking, load-bearing stone—granite, limestone, marble, sandstone, and other decorative minerals from countries including Bulgaria, China, Greece, India, Italy, and Turkey—the temple complex casts an impressive massing on its low-lying site. "Almost all aspects of the structural measurements, ratios, direction, and layout, and aesthetic designs of the Mahamandir structure are rooted in the ancient architectural treatises of India called the Shilpa and Sthapathya Shastras," explains Yogi Trivedi, a volunteer spokesperson for BAPS and media and religion scholar at Columbia University. Thus, the campus includes the Akshardham (meaning "divine abode of God") with a main shrine and 12 sub-shrines with "sacred images of deities from across the Indian subcontinent," says Trivedi; a canopy plaza with a 49-foot-tall bronze statue of Bhagwan Swaminarayan, the temple's supreme god; a welcome center; vegetarian café; stepwell; courtyards; fountains; and gardens.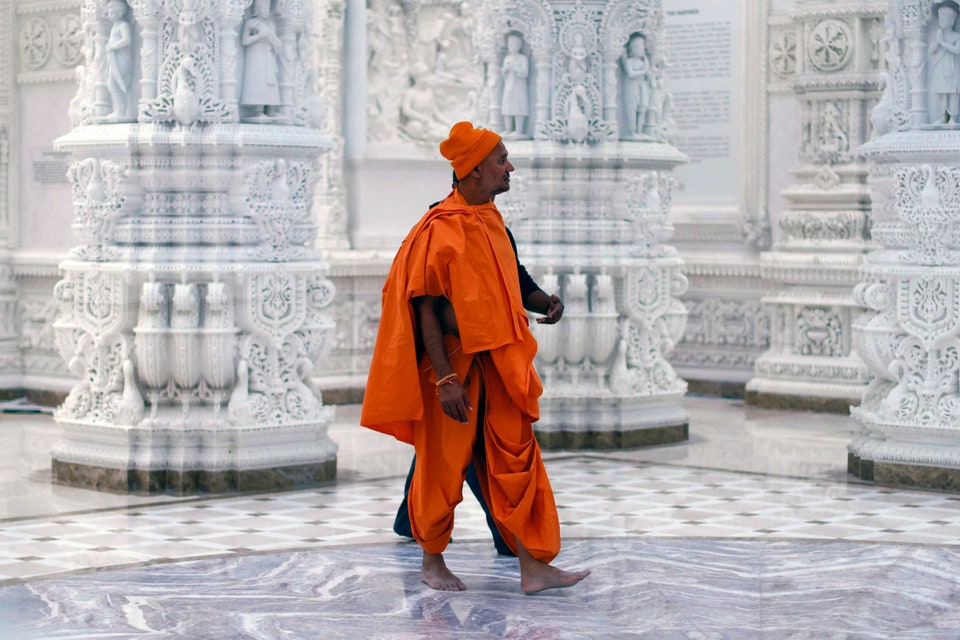 The design strategy focuses on sustainability, preserving the wetlands on and around the site and employing a solar panel farm that produces about one gigawatt of power daily, "roughly enough to run the Akshardham Mahamandir," says Trivedi. Heated stone floors provide a comfortable interior environment in the winter, under the largest elliptical dome in any mandir (Hindu temple). Eighteen shikhar towers, some spire-like, some pyramidal, announce the temple to the sky. The temple cost an approximate $96 million to build.
"Every carving is intentional and shares a universal message of harmony, service, and inclusion," says Trivedi. But how those carvings were assembled in New Jersey is the root of the temple's legal woes. According to a federal lawsuit filed in the United States District Court for the District of New Jersey in 2021, BAPS recruited more than 200 Indian nationals from the lowest Dalit caste "to come to the United States with 'R-1' religious visas to do stonework and other construction work in New Jersey." These workers (six of which are named as plaintiffs) were granted entry as "religious volunteers." However, their work was not the usual ministering but manual labor—building up the temple complex with stones that had been carved by others in India—for which BAPS paid them roughly $1.20 per day (approximately $450 per month), far under minimum wage, to work an average of 12.5 hours per day, with only one day off every 30 to 40 days, the suit alleges. In addition, their passports were allegedly held by BAPS for the duration of their visas and they were required to live in gated trailers on property, unable to leave the campus.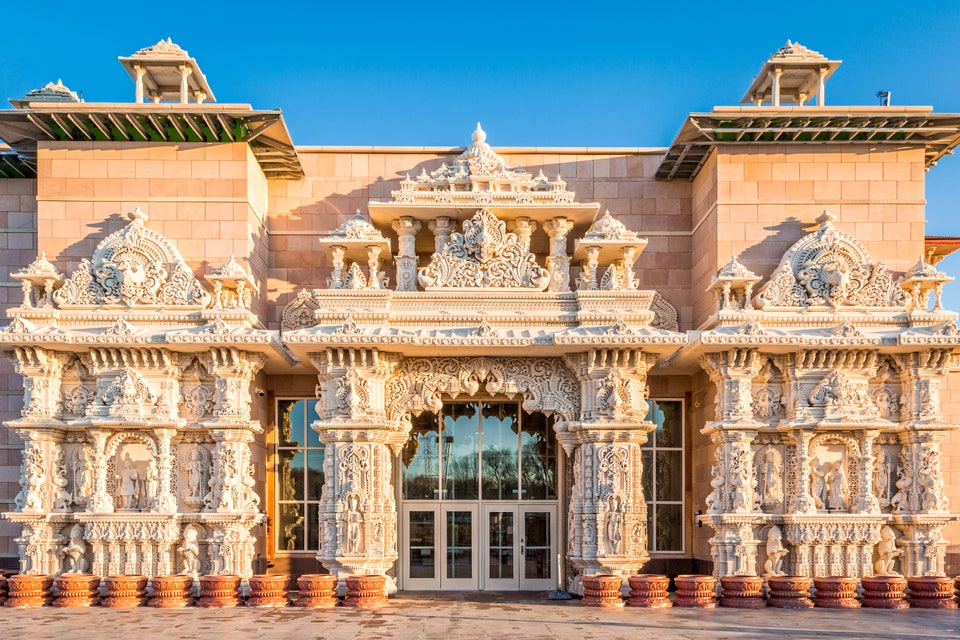 BAPS spokesperson Ronak Patel insists that this work falls under the umbrella of its religious culture of volunteerism, which prompted 12,500 other North Americans to volunteer millions of hours of their own time to a variety of tasks at the complex, including design, landscaping, transportation, cleaning, and food service. Patel also notes that "the parties agreed to put the lawsuit on hold pending an investigation with which BAPS continues to cooperate fully."
In April 2021, just before the suit was filed, the New Jersey Department of Labor issued a stop work order at the campus due to the project's construction company's "repeated and ongoing violations of state wage and hour laws." In 2017, a 17-year-old boy died after an accidental fall during volunteer construction work at the Akshardham Mahamandir. The lawsuit claims that one of the R-1 Indian nationals, Moham Lal, died on-site after being subjected to forced labor.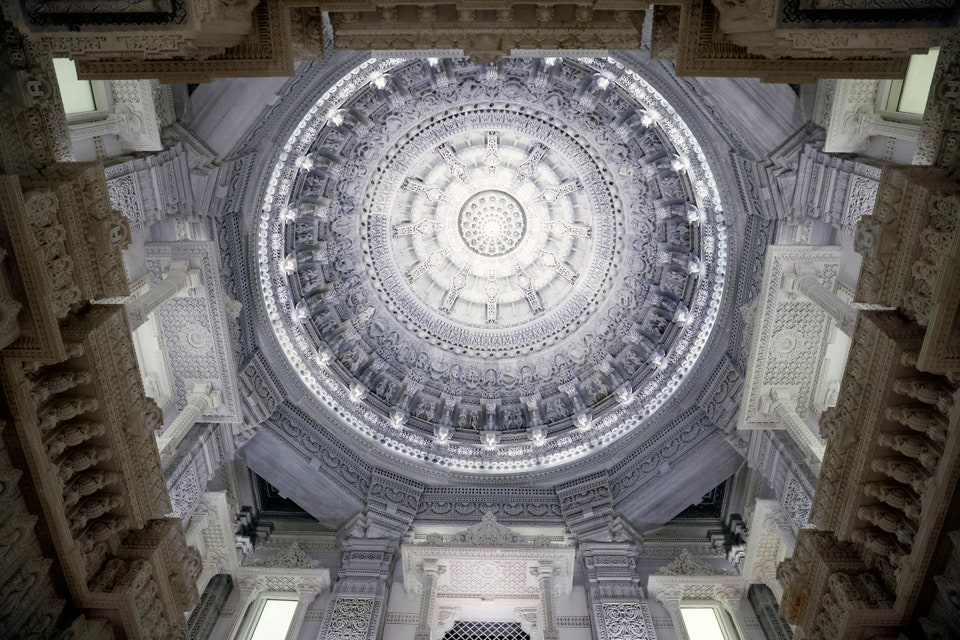 The BAPS organization has built more than 100 mandirs across the United States, and this record-breaking one just outside of Princeton can accommodate up to 25,000 visitors inside, and many more across its extensive grounds. "Since the turn of the century, BAPS has utilized R-1 visas for volunteer stone artisans and others who traveled to the US to perform seva [volunteerism] in connection with the construction of traditional Hindu stone temples," says Patel. "BAPS sought these visas on the advice and recommendations of the US government."