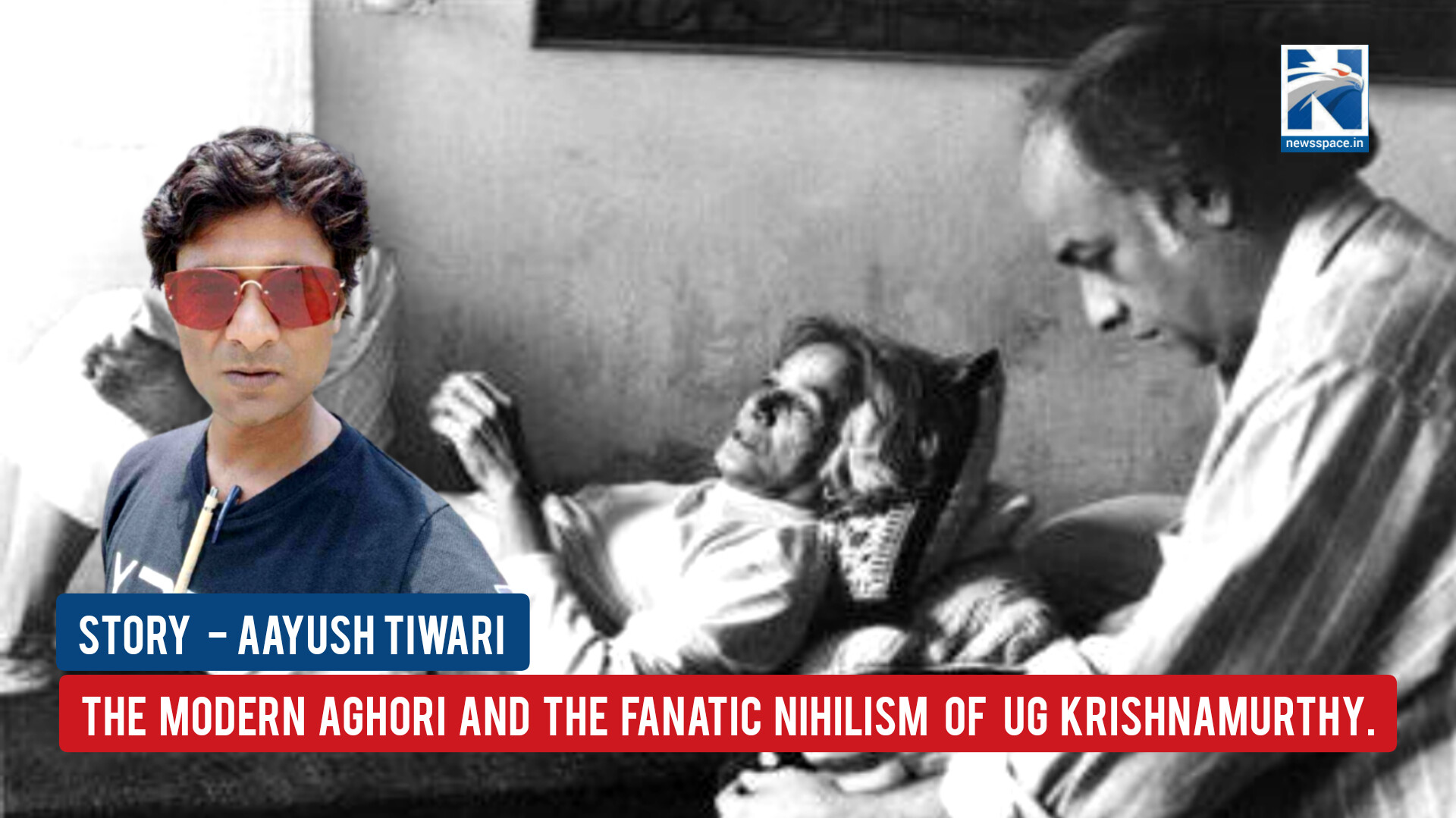 " I am a dog barking" , "Intrested in eating and fucking" , "All religious/spiritual teachers are conmen" . These are some of the shocking statements and theories of Mahesh Bhat's godfather UG Krishnamurthy. Yes, you heard it right , he is not the unparalleled J Krishnamurthy, but his former disciple, another product of the Theosophists . He is the man who corrupted the entire M -Tv generation with simulations brought on screen by the Imran Hashmi, Mahesh Bhat duo.
Nihilism, is a philosophy that doesn't believe in anything. UG Krishnamurthy was certainly a spiritual nihilist who even went deeper saying " I don't believe in anything" is also a belief in itself. "I don't believe in even I don't believe in anything." In this light he went deeper than even the German nihilism of philosophers like
Friedrich Wilhelm Nietzsche, who declared "God to be dead". Today hence we introduce you to the fanatic nihilism of his successor UG KRISHNAMURTHY.
Mahesh Bhat considers him his godfather. UG Krishnamurthy is a spiritual nihilist who can even justify something as heinous as incest. This becomes apparent with Pooja Bhatt recent statement typically reflecting the UG style to justify the photoshoot smooching her father for a magazine. She says it was 'innocent' and if you dig deep you will soon land to the "barking of a dog" video of Mahesh Bhat and UG Krishnamurthy.
Both father daughter directors are so influenced with UG that Mahesh is all set to feature a biopic based on his life , with the name "UG" while Pooja Bhat says when death knocks the door she would prefer dying like UG Krishnamurthy.
Krishnamurthy UG, is so abstract till date that no spiritual expert could map his philosophy even with AI equipped softwares. J Krishnamurthy reduced spiritual insights to philosophy while UG Krishnamurthy reduced them further to biology. This biology was nevertheless so lethal that it tore apart all the under 18 norms them set up by The National Commission for the Protection of Child Rights (NCPCR) to regulate child protection within the entertainment industry. Smut in the series of movies from Ashiq Banaya Apne to Aksar, from Murder to Zeher the hormonal crisis of the M- tv generation in early 2000s was greatly influenced by the dog barking theory of UG KRISHNAMURTHY.
It was the simulation game as taught by UG Krishnamurthy to make money by preparing the "what they want" recipe and paradigm shift was observed in Mahesh Bhat's outlook as he moved from making movies like Earth to movies like Jannat fast tracking on the spiritual expressway of Osho Rajneesh towards UG Krishnamurthy .
Yes, UG can't be ignored as despite openly using profanity for J.K and Osho he is considered to be an epitome of vedantic philosophy even by teachers like Achary Prashant. Also be it noted that UG was amongst the pioneers who denied the concept of enlightenment in his book " Mystique Of Enlightenment" calling it to be a global bluff nothing more than being reduced to the 'natural state'. For him Buddha Gautama was a crackpot and Osho was a pimp. He can be hated yet can't be ignored, he can be loved yet can't be followed. Such is the enigma of UK and we having brainstormed on various spiritual angles in our previous blogs it was equally important to introduce you all with such a line of thought. Till we boomerang further on such spiritual enigmas , your catching up with such shades of dark spiritual abstractions is recommended based on the variety and variability of your quests.