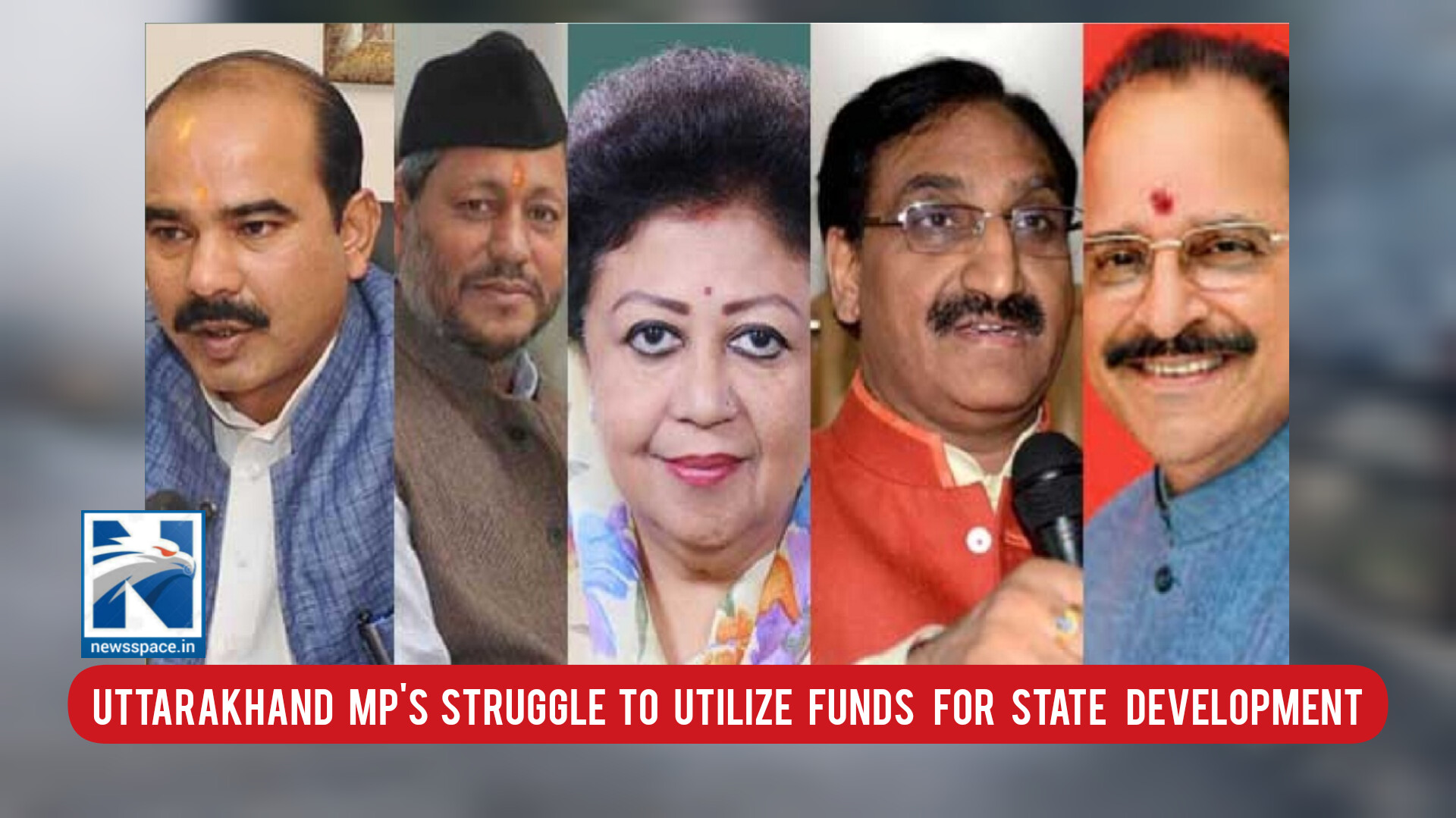 A significant revelation has emerged through a Right to Information (RTI) inquiry regarding the Member of Parliament Local Area Development (MPLAD) funds allocated to Uttarakhand MPs. Shockingly, a staggering 74.12 percent, equivalent to Rs 95.65 crore, of these funds remain unutilized. What makes this revelation even more concerning is that the terms of the MPs are about to conclude in a few months, and there is a considerable amount of unspent funds.
Looming Deadline with Unspent Funds
The RTI inquiry has uncovered a disheartening truth about the state's MPs' allocation of MPLAD funds. A substantial 74.12 percent of these funds, totaling Rs 95.65 crore, still lie untouched. This includes a noteworthy 64.77 percent of the Lok Sabha MPs' MPLADs, which amounts to Rs 56.45 crore. With only a few months remaining before the MPs' terms conclude, this underutilization of funds raises serious questions.
RTI Sheds Light on the Issue
Nadeem Uddin Advocate, a dedicated Right to Information activist hailing from Kashipur, sought information from the village development commissioner's office regarding the utilization of MP funds. The response to his inquiry revealed the extent of the issue. According to the information provided to Nadeem Uddin, the current five Lok Sabha MPs from Uttarakhand were eligible to receive a total MP fund of Rs 85 crore. However, due to a lack of evidence of expenditure, audit reports, and other necessary documentation related to previous MP fund allocations, a substantial Rs 45 crore in MP funds had not been released as of October 12, 2023.
Further complicating matters, despite adding an interest of Rs 2.15 crore to the Rs 40 crore MP fund received from the Government of India, Rs 11.45 crore of the total MP fund of Rs 42.15 crore remained unspent as of July 2023. This amounts to Rs 56.45 crore, or 64.77 percent of the total MPLAD fund, which has yet to be put to use.
Significant Allocations to Lok Sabha MPs
Lok Sabha MPs are entitled to receive MPLAD funds ranging from Rs 7 to 17 crore from the Government of India. Haridwar MP Ramesh Pokhriyal, Nainital MP Ajay Bhatt, and Pauri MP Tirath Singh Rawat each received Rs 7 crore, while Almora MP Ajay Tamta and Tehri MP Mala Raj Laxmi were allocated Rs 9.5 crore each.
Uttarakhand MPs Struggle to Utilize Funds
Haridwar MP Dr. Ramesh Pokhriyal, a former Union Minister and Chief Minister, has expended Rs 4.83 crore as of July 2023, leaving 72.21 percent of his MPLAD fund untouched.
Nainital MP and Union Minister Ajay Bhatt have spent Rs 6.69 crore from his Rs 17.29 crore MP LAD fund, leaving Rs 10.6 crores unspent. Pauri MP Tirath Singh Rawat, with a total MP fund of Rs 17.33 crore, has used only 3.7 crores, leaving a significant 78.65 percent unutilized.
MP Dr. Kalpana Saini Falls Behind in Expenditure
Almora MP Ajay Tamta still has his entire MP fund of Rs 17.08 crore unspent, with Rs 9.24 crore, or 54.10 percent, remaining.
Tehri MP Mala Raj Laxmi has spent Rs 7.64 crore out of her Rs 18.07 crore MP fund, leaving 57.72 percent, or Rs 10.43 crore, unutilized.
In the case of Rajya Sabha MP Dr. Kalpana Saini, out of her total MP fund of Rs 7.5 crore, only 0.05 crore has been spent, leaving a substantial 99.33 percent unspent. Anil Baluni has spent Rs 1.95 crore out of his Rs 22.4 crore, leaving a hefty Rs 20.45 crore, equivalent to 91.29 percent, unutilized. Naresh Bansal has utilized Rs 0.7 crore out of his Rs 12 crore fund, leaving Rs 11.3 crore, or 94.17 percent of the MPLAD fund, yet to be spent.
This underutilization of MP funds raises critical questions about the development and welfare of Uttarakhand, given the impending end of the MPs' terms and the significant funds that have remained untapped.