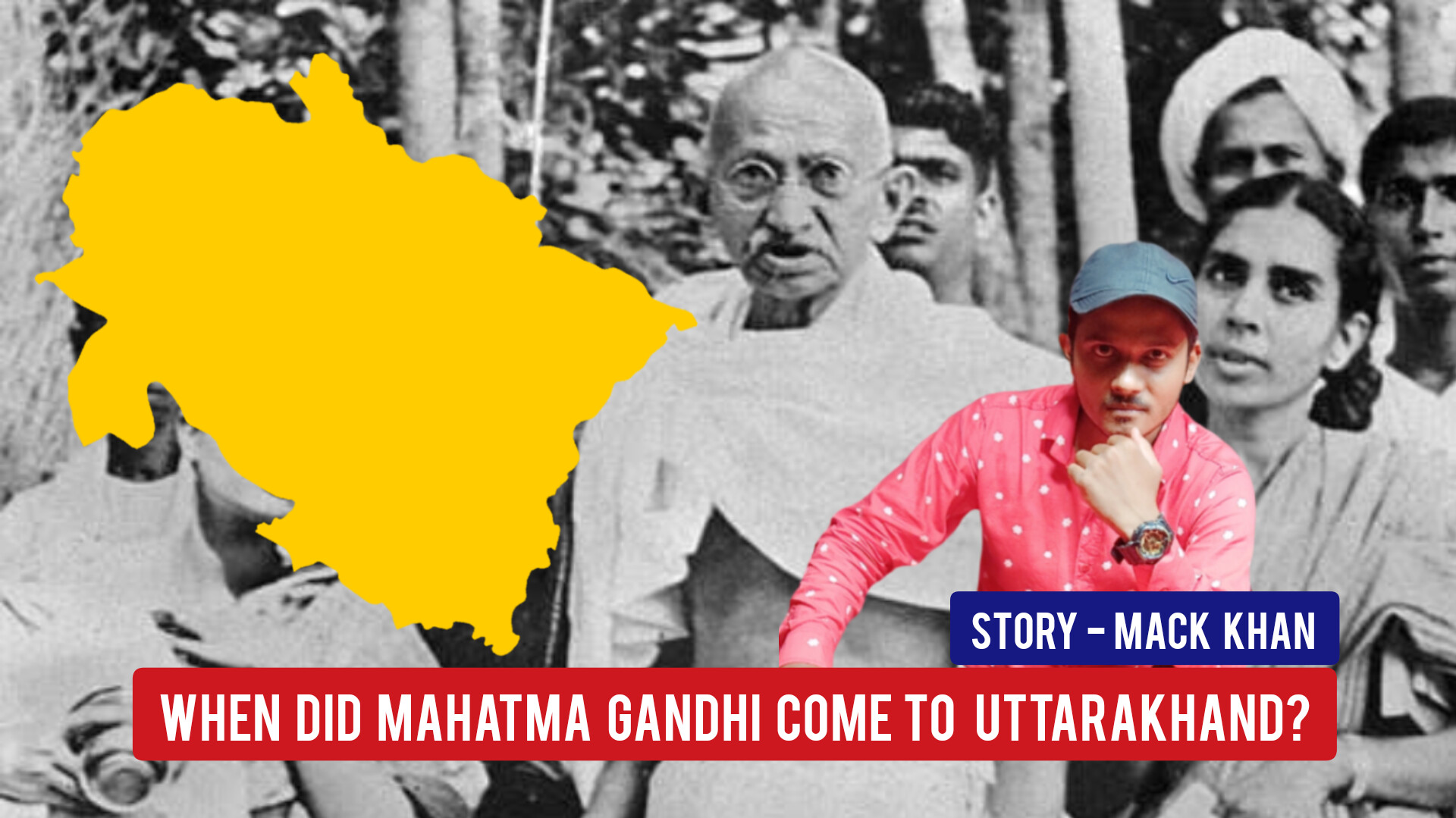 Mahatma Gandhi's role in the beginning of the freedom struggle movement of Uttarakhand is mainly considered. Due to the participation of people of Uttarakhand in the programs and conventions of the Congress at the national level, the wave of freedom struggle spread rapidly here. During the freedom movement, Gandhiji visited places like Haridwar, Gurukul Kangri, Rishikesh, Haldwani, Nainital, Takula, Bhawali, Tadikhet, Almora, Kausani, Bageshwar, Dehradun, Rajpur and Mussoorie in Uttarakhand. He visited Uttarakhand eight times from April 1915 to June 1947.
For the first time, Gandhiji came to Haridwar on the occasion of Kumbh in April 1915 and then went to Rishikesh and Swargashram. This was his first visit to Uttarakhand. After this, he again came to Haridwar in the year 1916 and on the special request of Swami Shraddhanand, he gave a lecture in Gurukul Kangri. During this time Gandhiji also came to Dehradun. In March 1927, Mahatma Gandhi again came to Haridwar and participated in the silver jubilee celebrations of Gurukul Kangri Vidyalaya there.
In June 1929, when Gandhiji's health was somewhat bad, he set out on a journey from Ahmedabad to Kumaon for health benefits on the request of Pandit Nehru. Along with receiving health benefits, he expressed his views in meetings held at many places here. On the morning of 14 June 1929, he reached Haldwani from Bareilly. After attending a meeting in Haldwani, he reached Nainital. In a public meeting in the evening, he gave his views on mountain poverty, promotion of Khadi and self-reliance. The next day, he appealed to the women to adopt indigenous materials and charkha in the gathering and laid the foundation stone of gandhi temple at Takula village near Nainital.
On the same day, he addressed a public meeting in Bhawali and was presented with a certificate by the residents of Bhawali. During his stay in Nainital, he stayed in the hospitality of Govind Lal Sah. On June 16, he reached Tadikhet via Khairna where he participated in the annual celebration of prem vidyalaya opened during the Non-Cooperation Movement of 1921 and gave a message to the local villagers in a public meeting to rise above selfishness and regional narrowness and adopt the feeling of national love and self-confidence.
On June 18, he reached Almora via Ranikhet where he addressed a large gathering at The Chaughan Pata Park. Oakley, the English chairman of the then Municipal Board, read out the certificate in Hindi in his honor. The next day, he addressed meetings at Ramje College, Shuddh Sahitya Samiti and Bharatiya Christian Center as well as Mahila Sabha and Malli Bazar. On June 20, Gandhiji's meeting was also held in Lakshmeshwar in the city. The next day, on June 21, he also met Yashoda Mae and English monk Ronald Nixon.
Gandhiji stayed in Almora for four days. During his stay in Almora, a local villager named Padam Singh was seriously injured by Gandhiji's car. Who later died. Gandhiji regretted this incident. On June 22, Gandhiji left Almora and reached Kausani in the evening. And the next day, he travelled in a motor to Garuda and from there to Bageshwar on foot. When they got tired in between, they also sat in the dandi. After reaching Bageshwar in the afternoon, he laid the foundation stone of Swarajya Temple in the evening and gave his views in a public meeting. He also attended a prayer meeting among a large crowd at Saryu Bagad.
The next morning, after visiting the Bagnath temple, he went to Kausani. On Monday, June 24, he concluded the preface on Anasakti Yoga of Shrimad Bhagwat Gita in Kausani. After staying in Kausani for a week till July 1, he enjoyed writing, self-study and Himalayan philosophy along with health benefits. During this time he also talked to the local people. On the afternoon of July 2, Gandhiji left Kausani and went to Delhi via Ramnagar, Kashipur.
In September 1929, Gandhiji landed in Haridwar and from there he visited Dehradun and Mussoorie. In Dehradun, he visited Kanya Gurukul and planted a peepal tree at Shahanshahi Ashram.
During his second visit to Kumaon, he reached Nainital from Shimla on 18 June 1931. Where he stayed on a 5-day stay and talked to Congress workers and landlords of different places about the problems of the country. During this time he also met Governor Sir Malcolm Haley. During this period he also attended many public meetings.
In May 1946, he again came to Mussoorie and stayed there for 8 days. During this time, he attended many prayer meetings and public meetings there and collected donations for the poor.
The next year, on June 21, 1947, Gandhiji met and interacted with refugees from Haridwar-border state and Punjab.
In these visits to Uttarakhand, Gandhiji was accompanied by many important people in different places, including Mata Kasturba, Meera Behen, Khursid Behen, Nehru, Acharya Kripalani, Devdas and Prabhudas Gandhi, Pyare Lal, Shanti Lal Trivedi, Mahavir Tyagi, Swami Shraddhanand, Acharya Ramdev, Victor Mohan Joshi Devki Nandan Pandey and Govind Lal Sah.