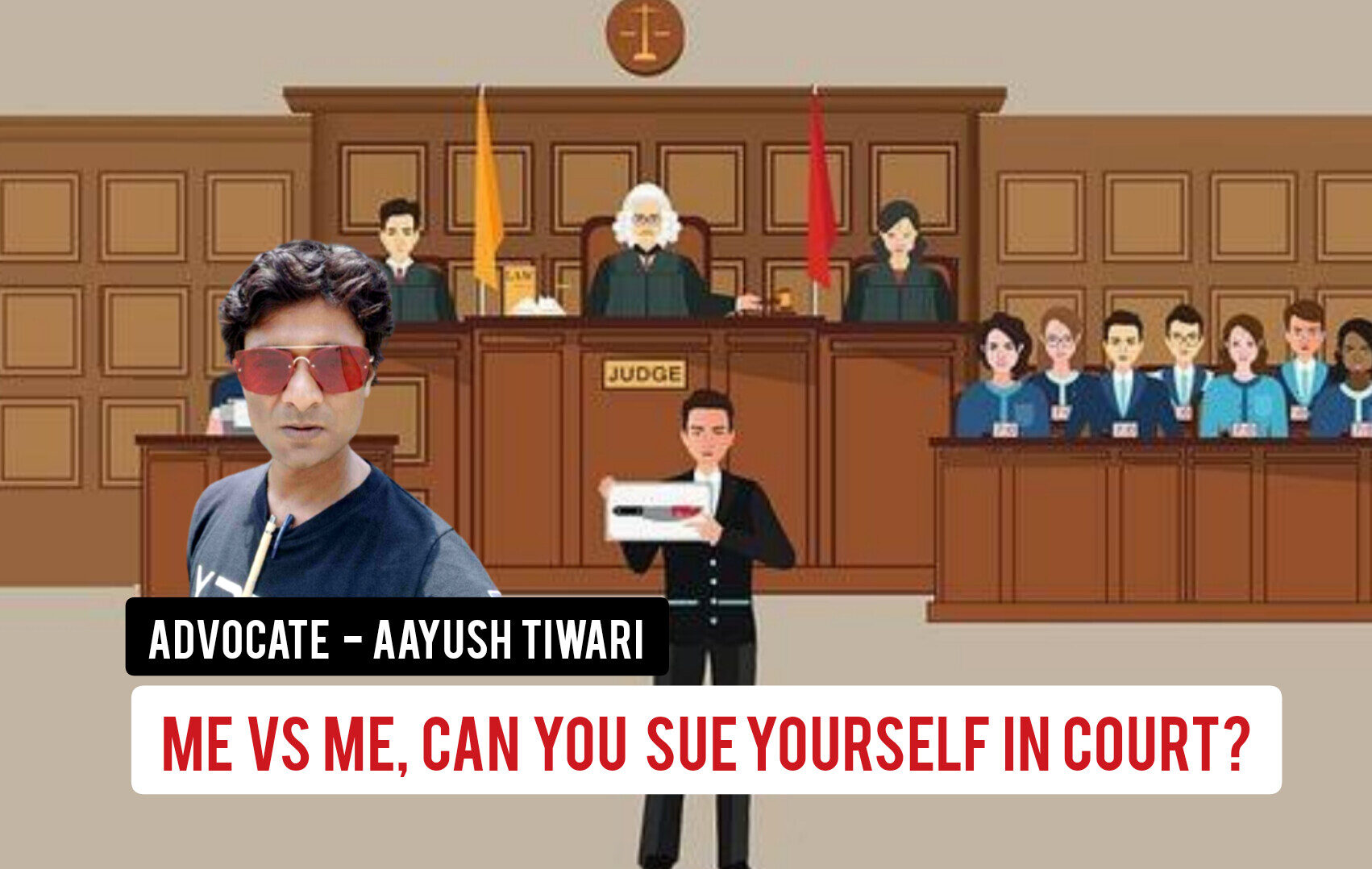 Issac cheated and defrauded his innocent mother and eventually kept all the ancestral property for himself sending mumma to an old age home. Mumma could not endure the shock and committed suicide . Now that Macbeth Guilt "Methought I heard a voice crying, Macbeth you have murdered sleep) started haunting and Issac and he filed a case against himself. So now the question is will the law suit succeed? If no then what? Our Issac here is a fictional character but you know what , One accomplished forger, the German painter Lothar Malskat, was incensed when, even after he announced his forgeries, nobody believed him and Eventually, he sued himself for fraud.
There have been several instances of people suing themselves for various reasons. One notable case was that of Lodi vs. Lodi in California, a summary of which can be found here: courtesy lowering thebar.net
http://www.loweringthebar.net/2011/04/the-man-who-sued-himself.html
This topic is blended with a lot of real mind boggling technicalities of the legal fiction and researching further on it can really help you develop an expertise on various aspects of jurisprudence. A masterpiece of imagination, the book "Man who sued the God" and a superhit Indian blockbuster "Oh My God" beautifully deal with such jurisprudential techniques as are closely associated with this 'me vs me' .
In the Indian context keeping the mesmerizing arguments of legal fiction aside rather than suing yourself a simple police confession can do the job. Indian laws hold- on firmly that there have to be atleast two identities for a legal case to happen.
This is the reason why the President and Governers under the Indian constitution have a legal immunity against any criminal proceeding.

Article 361 of the Constitution defines the immunities of the Indian President such as cannot be arrested, not answerable to any court of law as well as notice of two months for a civil case against the Governor or President of India.
Many consider it to be an exception to the right of equality enshrined under Article 14 of the Constitution and it seems obvious. Nevertheless my argument as a lawyer is different and is rooted in the depths of jurisprudence and comes here comes my favourite topic of law – the 'Fictio Juris' in this light. The President represents the Union Of India(UOI) and the criminal cases , since a crime is a social wrong they are always against the UOI ( represented by the President) for example SR Bommai Vs UOI or P. Rathinam vs UOI. So if the president becomes a criminal can the UOI vs UOI happen? My argument since college days had been that article 361 of the Constitution is not an exception to article 14 rather The Statement Of Purpose is that in jurisprudence and in Fictio Juris
the technical realities are rooted that makes it an impossibility.
If you probe on this I don't assure that your contention will be sacrosanct as far as Article 14 vs Article 361 is concerned but this I promise with a certitude that by do another brick in the wall will be added to your legal understanding.