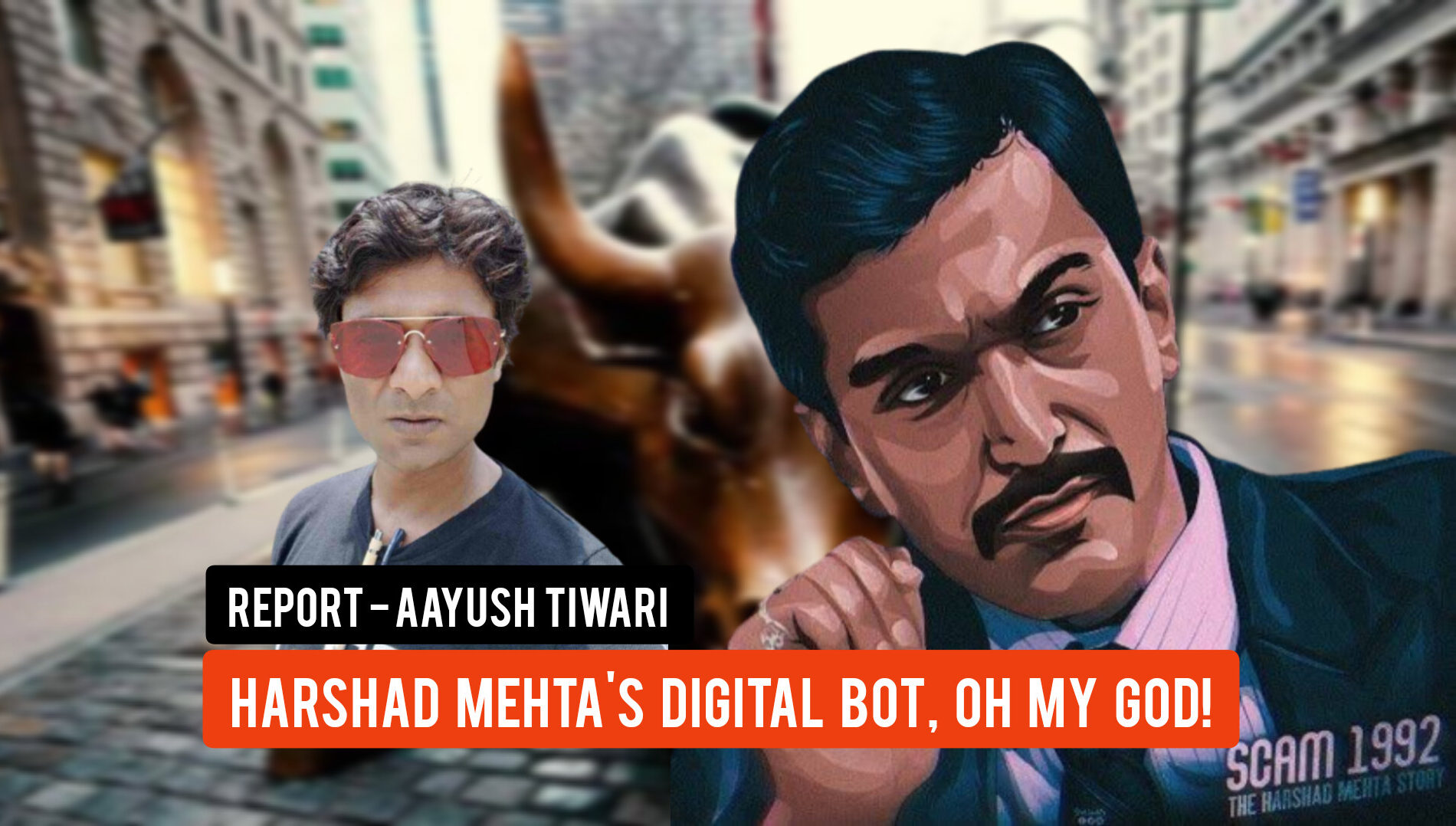 Aayush Tiwari –
Harshad Mehta's digital bot, OH MY GOD!
Harshad Mehta is back, not his ghost but his bot. OH MY GOD!
Throwback, 1993 and just with a few promissory notes Harshad Mehta gives the tombstone to the SBI. The refree counted 1, 2 ,3; ting ting ting but share market dint flutter and Harshad became the wall Dalal street heavyweight champion.
Throwback over, back to 2023. Yes, we know whoever trusted on Mehta Ji's tips went out with a begging bowl after the crash. "That crash, yes we watched the 1993 scam, it's background theme was just waao".
I think "System had loopholes" . These loop holes are there even today, in new colors, digitally deceptive? Even if the loop holes are not there they are deliberately created by automation. Some estorics used to control the market now even those giants are being controlled by the market.
Why those advertisements of share market oriented apps have all of a sudden disappeared. This app, that app, that used to promise unimaginable profits overnight if downloaded, where are they?
Ouch ! Thousands of them who trusted and download and invested are on the streets. Aren't they? Files that piles in IT tribunal , reflect the digit giant has devoured them. I mean swallowed them alive like anaconda.
Greed, oh that greed. For shortcuts without research, prompts the hum drum to gamble. They fight at home for funds. They sell their cycles, and tables because that Dolly in the app said " Yee, with ten rupees yesterday I have 10 thousand today". Oh your 10 Rs my friend, is blowing in the wind.
"Oh", said Nunnu, " It means that dolly on YouTube was fraud". " No said Jhunnu , "but her lipstic seemed expensive".
Oh comeon my friend, it's not the Harshat Mehta's ghost that robbed you off its his bot that has calculated the magnitude of your greed. The greed without toiling, that trust on short cuts.
A regular upgradation, updates with top economic portal, magazines and newspapers is helpful . Nevertheless understanding the AI that hates manual intervention is also a must. Yes you got that flair but as you reach the higher echelons in investment, beware of the Harshat Mehta bot that regulate finances from Wall Street to Dalal Street. From Sensex to Forex. Enigmatic, ineffable , nemesis they are as the AI is their weapon, entire cloud is their information, omniscient is their modus and they love technical ignorance.