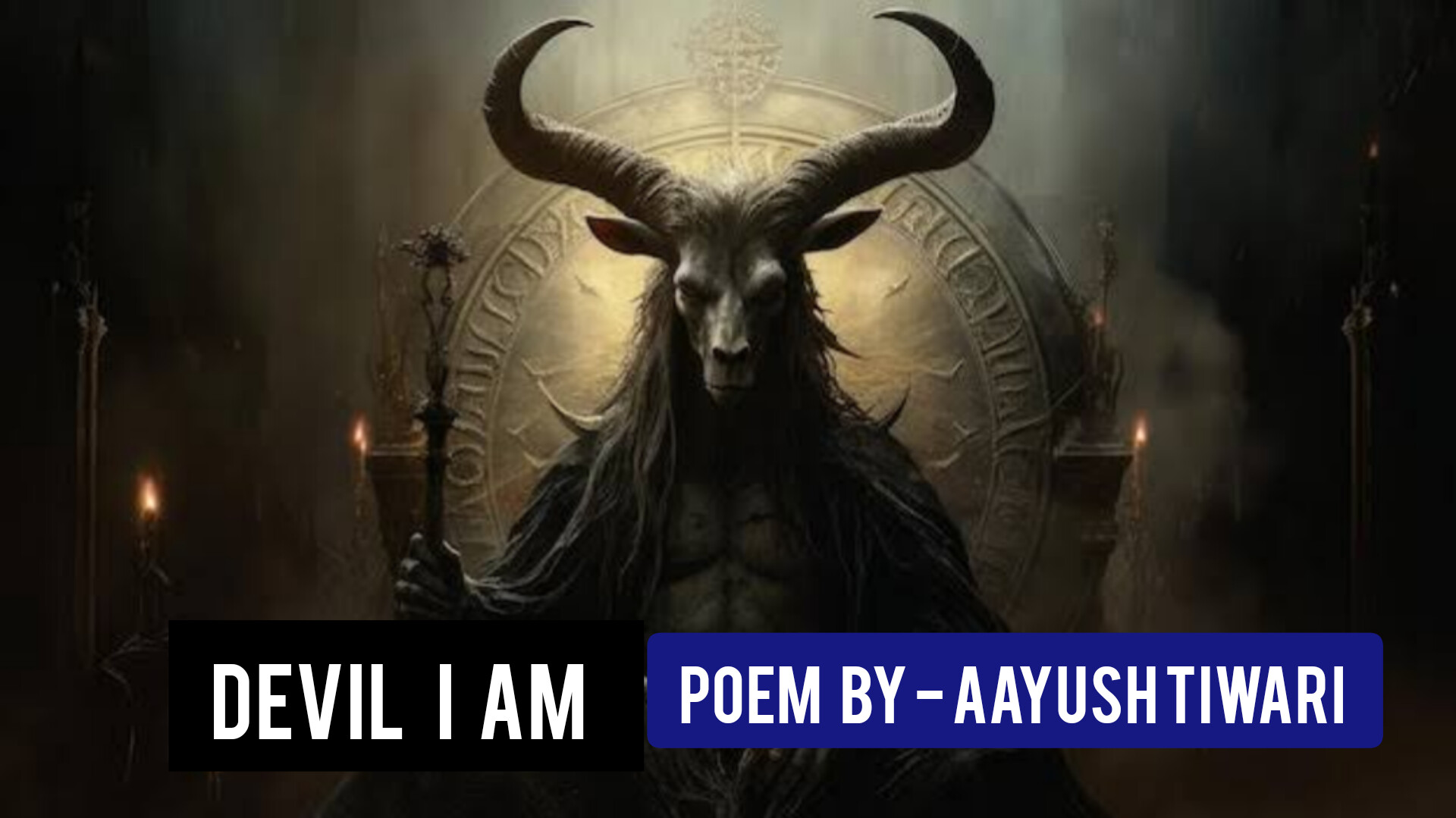 Aayush Tiwari –
'You are an angel' people call me.
Devil I am and I live lonely
Superstitions with clarity consists my heart.
Where ever I dwell, I rip faith apart
Bats I eat wolves are my friends.
We bath in semen, in mental trench.
I break devotion, wisdom I drill.
I molested Rabia, Socrates I killed.
Dead in light, I roam in the night.
Just with my stare prayers die in fright.
Peace runs away just with my glimpse.
An Illusion I am that causes all grim.
Confidence I create taking near to fear.
I blur vision with smoke and morals I tear.
My taste of dead bodies is for their stink I like.
To kill your childhood, I devote my life.
Angels are my slaves and no one knows.
I am an agent of mind that cause all woes.
I collect kid's eyes scorpions venom I drink.
I catch flying birds and eat their wings.
Fire I fan, soul's water that burns.
Relations I break and feelings I hurt.
To recreate myself I tour the hell.
With deception my sister and dilemma my friend
I rule in temples where cannibals hail.
A tourist I am where oppression prevails.
I love my enemies my friends I hate.
From illusion, delusion and hallucinations I am made.
I befriend at daylight backstabbing at night.
I get petrified as I see inner light.
When nights are cold and gentle is the breeze.
I hover on hills slaying saints in peace.
To women and girls extreme respect I show.
Then kill them slowly with my ruthless blows
As wisdom gets eclipsed with my evil.
Only then I hail myself, as most lovely devil.
I am loved and I love but I don't love love.
I am that iron that works when it rusts.
If I am at peace I shake the world.
And people then, I kill like flies.
I AM NOT OUTSIDE, BUT INSIDE YOUR MIND.
I flow in the brain as water from ice.
In your blood I flow I grin as you pray.
I PREY ON HEARTS AS THEY Search GOD'S WAY.
BUT TO EXIST AND PLAY THESE GAMES.
I ENTER YOUR SOUL AND TAKE YOUR NAME.