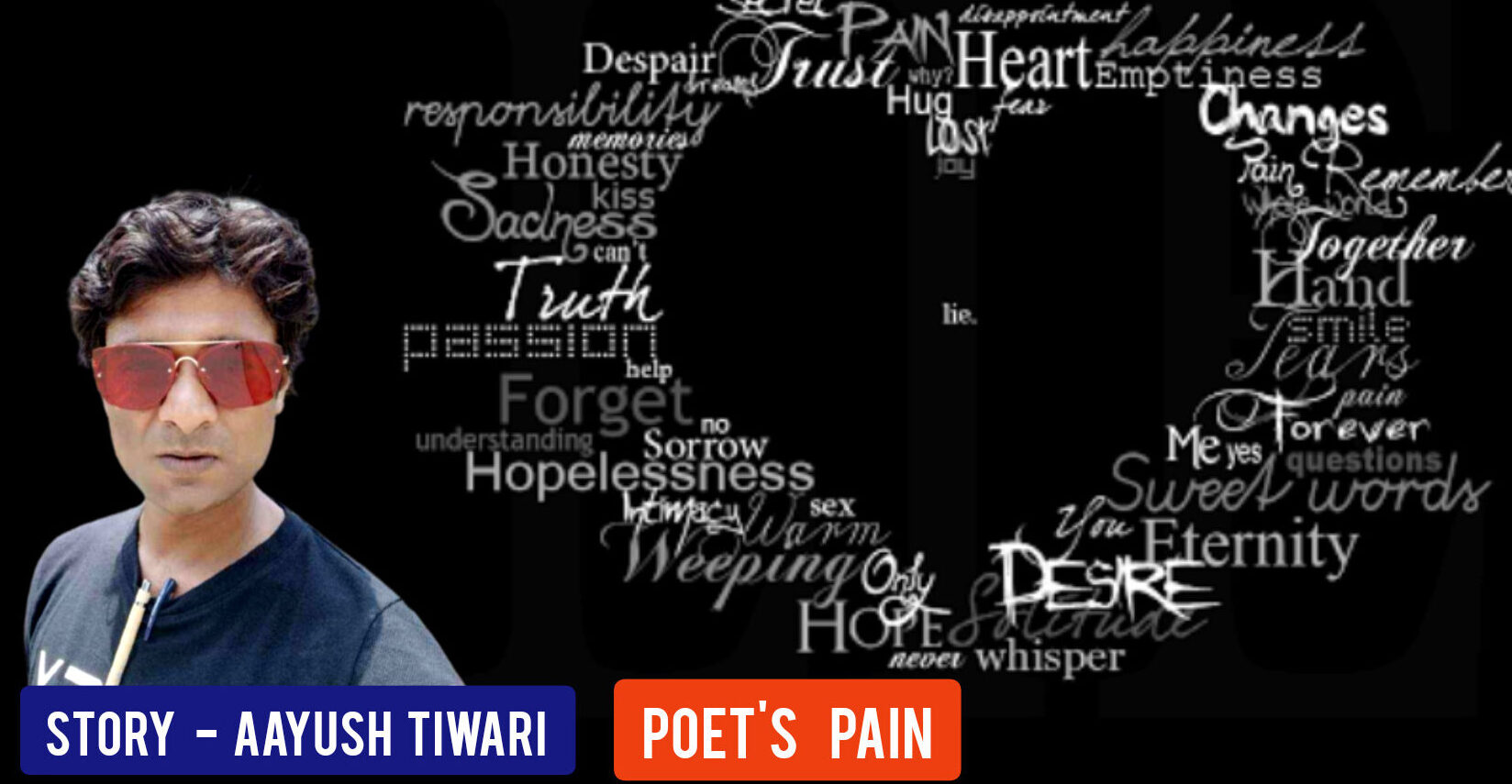 If you are passionate about writing and specially if the art of poetry flows in your blood then be aware of something I call as the 'Poet's Pain'. Writing is very close to method acting and just like a good actor a good writer has to live up the character he/she wants to articulate. This is a very interesting process per- se but also can be lethal beyond imagination and sometimes lethal enough to be fatal. To connect the context with the theme of this yarn let us start with the most legendary character 'The Joker' played by Heath Ledger in Nolan's masterpiece The Dark Knight . What happened to Heath Ledger and why? His method acting took him so deep into the character that the legend locked himself in a hotel room and got so engrossed living up the dark character of the Joker (History's most beloved villain) that it costed him his life. The posthumous Oscar winner died of an accidental overdose (a combination of painkillers and sleeping pills) at the age of 28 in his New York apartment in January 2008. ( For reference zap through the following blog of history.com to know more about this tragic demise.
https://www.history.com/this-day-in-history/heath-ledger-dies-of-accidental-prescription-drug-overdose/
A similar kind of danger swirls around the authors, writers and poets. Firstly authors who really have a flair on writing often go so deep into the plot, the character, a trajedy, as the case may be that many a times that thin line between their reality and the fiction they are living in geta trespassed irreversibly . Secondly writing is such a creative knack that if the animus creation does not find a suitable expression ( an outlet) to unleash then it implodes inside and causes devastation.
The inclusion and the empathy of writers are scientifically proven to be far more than any other artista and more than often this sense of belonging simply kills. Friedrich Nietzsche the great German Philosopher cum writer fell into clinical madness based on his critically deep thinking on something as heart – rending as his philosophy of nihilism
while an equally powerful writer John Austin, The Father Of Jurisprudence in clinical depression perished having been obsessed with something as censorious as criminology.
Sylvia Plath (1932-1963),
, Hunter S Thompson, Gerard de Nerval, (1808-1855), Virginia Woolf (1882-1941) ,
Arthur Koestler (1905-1983), Vladimir Mayakovsky, (1893-1930) and Ernest Hemingway (1899-1961) , who are they and why am I talking these names? Friends , writers, 'Pen -men' these are the most brilliant writers of their times who died by committing suicide. These are just a few names and a non exhaustive list with uncountable such writers is there buried in the sands of time. My personal case study on my favourite Hindi bards right from Subhadra Kumari Chauhan till 'Rashtrakavi' Ramdhari Singh Dinkar reflect a similar tormenting reality where although the legenda got saved from suicide but could not help remaining unfazed sketching down the dark realities of the society.
So if you aspire to be a writer of the modern era, it is our wish and blessing that smartly you chalk out the ways to avoid this poet's pain at any cost first. We have tried to bump the world of readers and writers regarding this poet's pain in a poetic way via one of our most popular poems The Artist's Mind
and again make efforts in this blog to emphasize on the same even more. Writing is a such noble profession and it is the need of the hour that modern day writers and poets rock the worlds of those million faces struggling with this global pandemic of clinical depression. Nevertheless we repeat that expedient for the aspiring writers it is to be aware of this possibility of the poet pain and take strong measures to avoid it before jumping into the ineffable multiverse of writing and poetry.