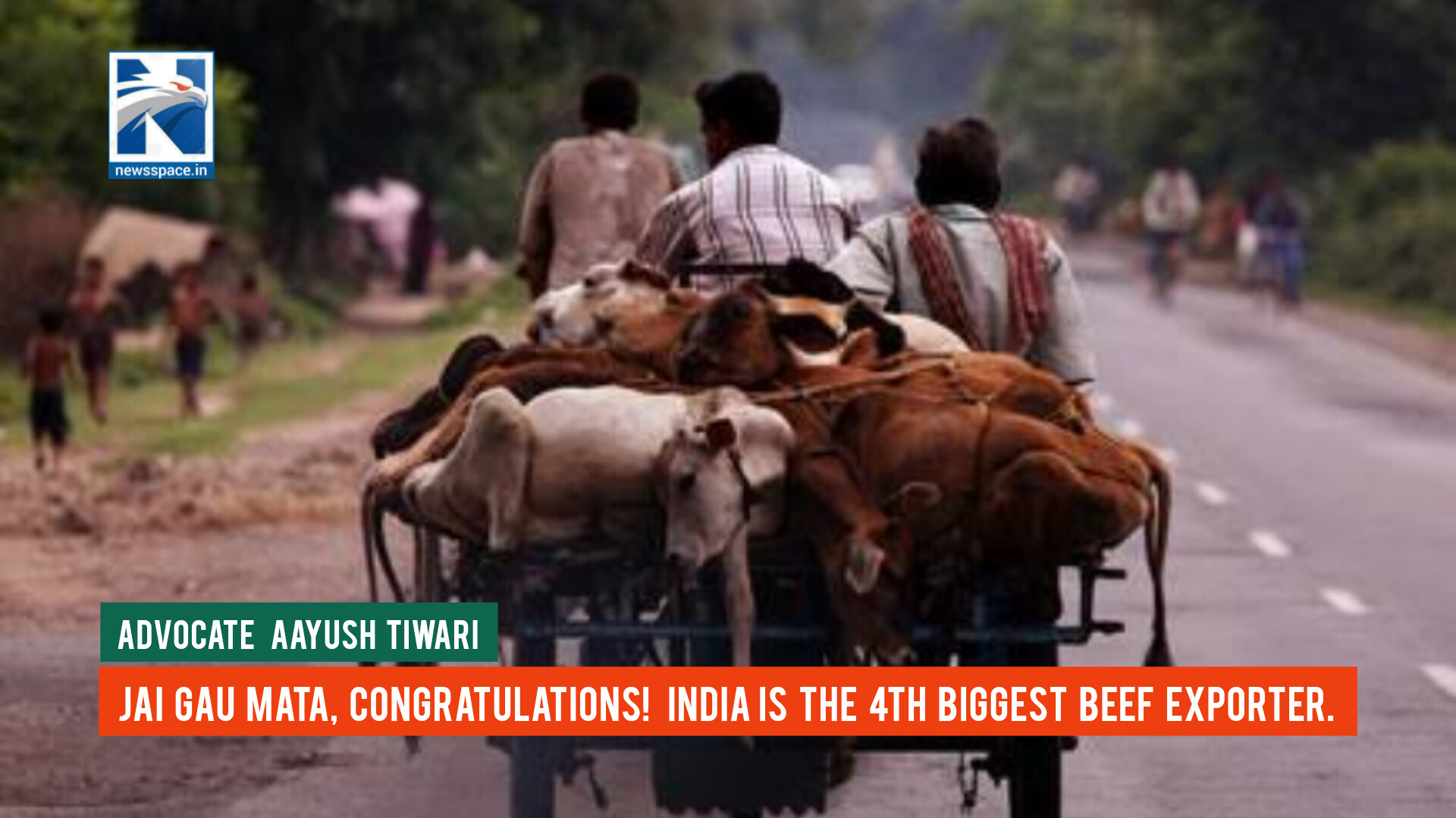 YES ITS NOT ILLEGAL but "Whatever Hitler Did In Germany Was Also Legal" said Martin Luther King. So it's not about legality but the double standards deployed. It's not illegal as FSSAI license makes it go but here we want to talk about, ah again reminder to the Martin Luther King, quote.
1943: The henchmen with cigar in his mouth blowing off the heads of kids like a shooting game. (Auschwitz Concentration Camp, Poland)
2023: Cows and buffaloes (having been sucked off their milk) hanging upside down and the ultra modern automated guillotine on full swing 24*7. ( PML Pvt Ltd , Chandigarh , India)
So who says , Hitler and Stalin are dead? More advanced more updated Nazi version right here for you , countrymen. Tears falling on the screen make it difficult for me to write and "gyan mat de yar" effect refrains me to give a version of what happens in slaughter houses, but how can I control myself voicing against this legislative hypocrisy and the 'Respect the constitution' buzz.
The constitution says what?
Article 51A (g) places a duty on the citizens of India to protect and improve the natural environment and have compassion for all living creatures. (As interpreted in Animal Welfare Board of India v. A. Nagaraja & Ors)
Devoted Gow-Pujan and prohibition of Cow slaughter ( Part 4, DPSP of our Constitution) is there for you on papers , on screens. This is the party manifesto but you know what, India is still the top exporter of beef.
Article 48 of the Constitution of India is one of the Directive Principles which directs the state to make efforts for banning animal slaughtering of cows and calves and other milch and draught cattle. It further states to organise agriculture and animal husbandry on modern and scientific lines.
Public lynching happens as they eat beef and the government boasts itself being a world leader in the Pink Revolution on the other hand. This pink is not the pink coloured curtains but innocent animal blood and this pink revolution is the meat industry that the same government subsidies.
The funded wars are important for pharmaceutical and for the billion dollar arm industry and how will they breath without religious genocides. Why shouldn't the religious war happen, afterall it's beef . The Arban Exports Pvt Ltd should be ransacked and all these men should be lynched but OUCH, The 'Arabian' here has nothing to do with Arabia or Dubai. The gentleman who owns it is Mr Kapoor operating from the Russian Mansion and this mansion is also not in Russia, but in Mumbai (pin code 110001).
Here are a few more details of top notch tycoons of the slaughter house industry operation right under the nose of the "Jai Gau Mata" brigade.
Arabian Exports Pvt.Ltd.
Owner's name: Mr.Sunil Kapoor
Add: Russian Mansions, Overseas, Mumbai 400001
2) M.K.R Frozen Food Exports Pvt. Ltd.
Owner's name Mr. Madan Abott.
Add : MG road, Janpath, New Delhi 110001
3) P.M.L Industries Pvt. Ltd.
Owner's name: Mr. A.S Bindra (& Don't forget to Google gold medalist Abhinav Bindra along with this name)
Add : S.C.O 62-63 Sector -34-A, Chandigarh 160022
It's futile to talk about the 'legitimate expectations' we studied in jurisprudence. It's futile to support anything with DPSP , part 4 of the constitution. A comparative analysis of Constitution Article 51(g)( Compassion for all inclusive of wildlife) and the PINK REVOLUTION won't make any sense. All that can be done is to say cheers Martin Luther King, what a million dollar statement you made " Whatever Hitler did in Germany was also legal". Legal as per the Nazi Laws, the legal gas chambers, the legal medical experiments, the legal public shootings. All is legal all is constitutional except a poet's soul . And hence I write by the virtue of being a lawyer too.
'Intention of legislation' was taught to us in jurisprudence while studying the topic , "interpretation of statues' , but what intention what legislation can I make the basis of my writings with Jai Gau Mata on one side( DPSP, Art 36- 51 Constitution) and the slaughter houses and the nation boasting on printing notes by heralding something as crimson as the Pink Revolution.
https://www.bhaskar.com/news/raj-bhil-mat-latest-bhilwara-news-025002-2266694-nor.html
https://www.ers.usda.gov/amber-waves/2016/july/india-emerges-as-a-major-beef-exporter/
https://www.statecraft.co.in/article/an-overview-of-india-s-beef-export-industry
https://www.exportgenius.in/blog/top-beef-exporters-in-india-report-on-beef-and-other-meat-exporters-22.php
(About 1.42 million metric tons of Carcass Weight Equivalent (CWE) of beef and veal were exported from India in 2023. The CWE of beef and veal is likely to be 1.46 million metric tons in 2024, and stood third in terms of production volume in the world)